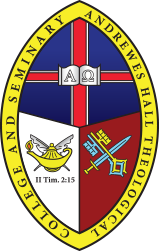 Andrewes Hall is a theological college and seminary located in Phoenix, Arizona offering degrees in the following disciplines:
Bachelor of Theology (B.Th.)
Master of Divinity (M.Div.)
Bachelor of Divinity (B.D.)
Master of Theology (M.Th.)
The state of Arizona has approved the school's request to confer the degrees listed above. The school also welcomes any student who would either like to take limited classes for credit or audit without the intention of enrolling in any of the degree programs.
On the pages that follow in this section of the website, you will have the opportunity to learn more about the seminary's history, our rule of life, our historical patron and our doctrinal standards.
If after reviewing the information on this website you would like additional information, please refer to the Contact Us page. We would be happy to provide you with a copy of our current academic catalog.
Thank you for your interest in our school. In closing, we offer up the following prayer:
THOU only wise God, our Savior, with whom are all the treasures of heavenly understanding; Illuminate all schools and colleges and universities with the light that cometh from above; That those who teach may be taught of thee, and those who learn may be led by thy Spirit; and grant, that by the increase of knowledge, thy truth may be confirmed and thy glory manifested; through Jesus Christ, the Living Word. Amen.
(Reformed Episcopal Church prayer book 2003, page 64 – for Schools and Colleges)